Calibrate only if the scanned image looks fuzzy, the color looks abnormal (e.g., darker than normal), after more than 8,000 scans, or the scanner has been stored without use for a longtime. 
The calibration process resets the Contact Image Sensor to resume its color and sharpness precision.
1. Open the document extension plate.
2. Make sure the Document Guides are unfolded as shown in the image (1).

3. Hold the edges of the calibration sheet (which you find in the product box) and insert it with the text FACING DOWN (2).
4. Align it to the right and make sure the white area is fed first (3).
5. Turn on the scanner by moving the Power switch to the ON position.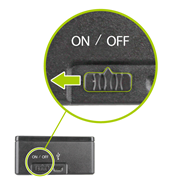 6. To enter the calibration mode, press and hold the Color/BW button until CAL is displayed on the screen and the Scan LED flashes in green, indicating you are in calibration mode.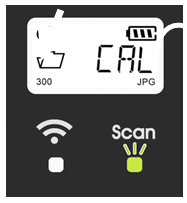 7. Press the Scan button. The calibration sheet will be fed through.
8. When the calibration process is finished, OK is displayed on the screen.
Notes:
If the calibration process failed, the red led flashes and E19 is displayed on the screen. Power off the scanner and repeat the calibration.
To keep the calibration sheet feeding straight, slightly lift the top edge of the sheet when the sheet begins to feed through.
Calibrate the Scanner in PC mode:
Alternatively, you may also follow these steps to calibrate the scanner in PC mode.
1. Follow step 1 to 5 as described above.
2. Switch to PC mode by pressing the SD/PC/Wifi button on the scanner until the LCD screen shows PC.
3. Start the Capture Tool by choosing Start>All Programs>IRIS IRIScan Pro Wifi Scanner>Capture Tool.
4. Select IRIScan Pro Wifi as your scanner model. The main window of Capture Tool will be displayed.
5. Click the Setting tab and then click the Calibration button.
6. The calibration card will be fed through and LCD screen shows Cal.
7. After the calibration process is finished, OK will be displayed on the screen.
Warning: 
Do not interrupt the calibration sequence or try to shut off the device while it is calibrating. If you stop the calibration before it has completed, a calibration error may occur. As a result, you will have to power off the unit and repeat the instructions in this section
Calibrate the scanner only when color of the scanned image looks abnormal.
Keep the calibration sheet from dust and debris. Any dirt may make the calibration chart invalid or impact the calibration result.
Use only the included calibration sheet to calibrate the scanner.