The Capture Tool is installed by default when you install the scanner driver. 
With the Capture Tool you can perform simple scans and view the scanned images. In addition, it helps you complete your scan at the rated scanner speed.
The following procedure describes how to start a simple scan. Before you begin, make sure the scanner is powered on.
Select Start>Programs>IRIS IRIScan Pro scanner>Capture Tool.
The Select Scanner Model dialog box will be displayed.
Select your driver type and scanner model and click OK.
The following Capture Tool dialog box will be displayed.

Choose your desired file format from the File Format drop-down list.
Type your desired folder name and file name in the File Path box.
The default path is C:\MyScan\Image.
Click the Setup button or choose Setup from the File menu to prompt the Scanner Properties dialog box.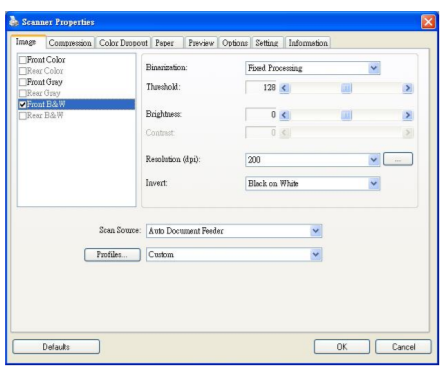 From the Image Selection box, choose your desired image type for your scanned image.
If you have a duplex scanner, choose Front and Rear to scan both sides of your document.
Click OK to quit the Scanner Properties dialog box.
Place your document face down on the document glass or face up in the auto document feeder.
In the Scan Validation dialog box, click the Scan button or choose Scan from the File menu.
The document will be scanned and displayed in the Scan Validation screen.
Click the Close box or Quit from the File menu to exit the Scan Validation Tool.