You can access the scanned documents on your scanner via Wifi using a computer, tablet or smartphone.
To do so:
Press the Scan/Power/Enter button for 2 seconds to power on the scanner.
Enable the Wifi:

Press the Wifi button. A red Wifi indicator starts flashing.
The Wifi is ready for use when the red Wifi indicator turns green.

Turn on the Wifi connection on your computer and select the IRIScanBook-f2XXX network.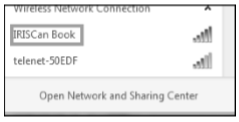 When you do this for the first time, you are prompted to enter the password. The password is 12345678.
Establish the connection.
Note: when connected to the IRIScan Book network, you do not have access to the Internet.
Open a Web browser and enter: 10.10.1.1 or iriscan.book.
You access the card's contents on a secured file server.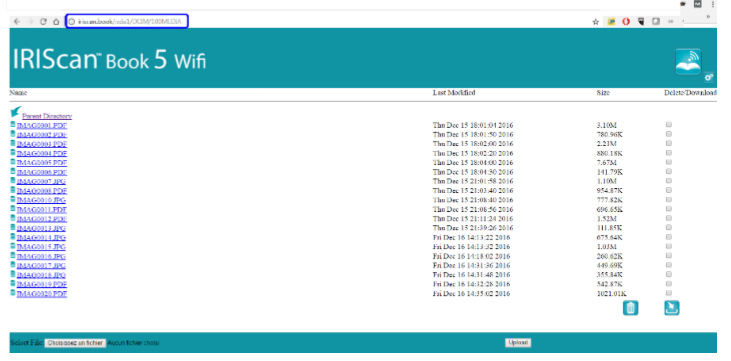 Tip: you can also download and edit your documents in the InstantResult Wifi 2 app (not available on Mac OS).
Now download the required files. To do so:

Click the desired folder to view the scanned images.
Select the file(s) by ticking the boxes in the Delete/Download column.
Click the download icon.
The file will be saved as JPG image, PDF or Multi-PDF file depending on the chosen output format during scanning.
Note: on a Windows PC, the files are saved as a .tar file. You need a file archiver like 7-zip to unzip them.