We are happy to announce that the new IRIScan Desk software is now available online.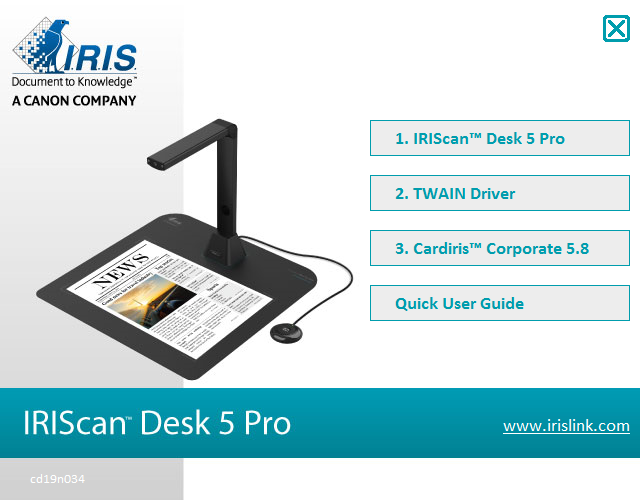 List of the bugs that have been fixed:
Scanner detection issue: On some computer, the scanner was not detected by the software even though Windows could see it in the Device Manager.
A blue wheel was appearing when starting the software: It appears that if the user had previously changed the language of Windows, the software was not launching correctly.
Some antivirus software were blocking the camera access (Kaspersky, BitDefender, ...).
Some users were facing a software crash when running the software for the first time on Windows 7 and 8.1.
Video were crashing when using the "Picture in Picture" mode.
Fix a crash with Twain user interface.
Improvements added to the software:
We have added a "Adjust Quality" feature. It allows you to change exposure, brightness, white balance, etc.
OCR quality has been improved on the document.
The exporting speed of the Book mode has been improved.
The serial number of the device appears now in "About > Scanner" menu.
The default OCR language is now the same as the Windows language.
Improved Twain compatibility with Windows 10 build 1903.
Cardiris has been added to the software pack and is now fully compatible (Pro version only).
Twain user interface is now available in multiple languages.
Safe procedure to install the software update on your computer:
Go to the Control Panel > Uninstall a program and select IRIScan Desk 5 to uninstall it.

This step is mandatory. If you have a previous version installed, you need to uninstall it

 will not work correctly.
Once it's done, download and install the software update corresponding to your scanner model (mandatory) via one of this link: 
Double click on the downloaded file and follow the on-screen instructions.

Make sure to install the IRIScan Desk 5 software first THEN the Twain driver.

Restart your computer.
 Start using your IRIScan Desk.
Should you have any question, feel free to submit a ticket.