Security software, proxy or firewall or router settings may block the activation from being completed automatically. To activate manually send us the information requested in the asterisks below by opening a ticket.
As of July of 2023 we are moving Readiris to a new activation scheme starting with version 17.4.177. It uses a 36 digit code with hyphens that is entered in a single field.
For existing customer the older 34 digit code can also be used during the transition. We expect that to usable into 2024. That code will work by pasting it into the single field.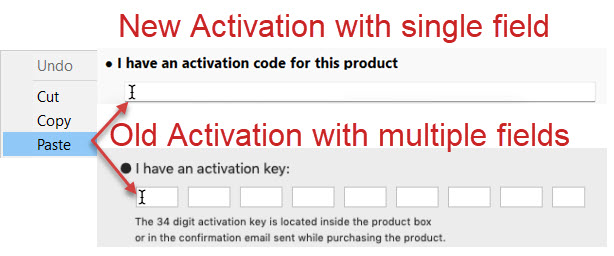 Start the software and when asked to activate:
Copy the Serial number/ Activation code (from your email order confirmation).
Right-click inside the field and select Paste so you don't have to type it all in.
Click Next and the software should activate automatically.
Note that direct internet access is required to activate the software.
If it does not work then send us this information.
************************************************************************************
1.  When the activation fails you will see a window that says:
      a)  Retry  |  Cancel  |  Manual Operation
      b)  Click on the Manual Operation button.
2.  Click on the Save as text file... button at the bottom of the next window and attach that file to a ticket.

We will use that information to generate and return a license file.
************************************************************************************