In order to maintain an optimal scan quality and prevent dust accumulation, it is recommended you clean the scanner (outer casing and feed rollers) approximately every 200 scans, of if vertical lines or stripes appear on the scanned image.
Use only the recommended and supplied tools to clean the scanner.
Warning: do not use any solvents or corrosive liquid (i.e. alcohol, kerosene, etc.) to clean any part of the scanner, otherwise the plastic material may be permanently damaged.
Open the cover by holding the scanner with one thumb on the feeder and another thumb on the cover. Carefully and firmly press your thumb into the feeder and then raise the cover. This will cause the top of the scanner to release from the bottom of the scanner.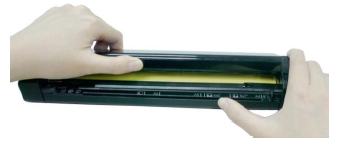 Gently wipe the glass and feed rollers on the scanner, and the CIS cover with the cleaning cloth (included).