Important: calibrate the scanner only if the scanned image looks fuzzy, deformed or if the color looks abnormal (e.g. darker or lighter than normal).
Remove the microSD card from the scanner.
Press the power button for 3 seconds to power on the scanner.
Press and hold the JPG/PDF/up button. While holding that button push the Enter button.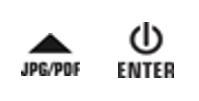 Release both buttons simultaneously to enter the auto-calibration mode.
The following message appears on the LCD screen: "1. Insert the calibration sheet".
Insert the white calibration sheet as the arrow indicates with the text side facing down.
The scanner will now start scanning the calibration card. During the scanning process the scanner will stop for a moment. Meanwhile the following messages appears: "2. Calibration in progress!". 
Wait for about 40 seconds. The scanner will finish scanning the rest of the card.
When the message "3. Calibration completed!" appears, the calibration has been completed.
Press any button to power off the scanner.