Important: it is not possible to scan documents while the scanner is in Wifi mode. So make sure the Wifi mode is deactivated before you start scanning.
To do so:
Go the the network settings on your computer/smart device.
Make sure you are not connected to the IRIScan network.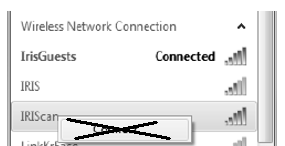 To scan documents:
Press and hold the power button for 3 seconds to power on the scanner.
When you power on the scanner for the first time you need to enter the time/date and the display language. To learn how to do so, consult the corresponding topic.
Use the paper guides to align the documents with the scanner.
Smoothen the edges of the document before scanning.
Aim the edge of the document at the scanner slot.
Gently insert a document text facing up into the scanner slot. The scanning starts automatically.
Tip: align the documents left in the scanner slot.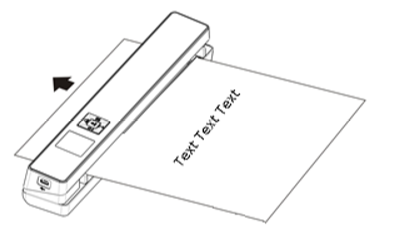 During scanning the scanning status is displayed on-screen.

Notes:
When you are scanning while the scanner is connected to an external power supply, the scanner enters battery charging mode if no action is taken during 1 minute.
If the Instant Preview feature is set to "on", the scanned image is always shortly displayed on-screen before the scanner returns to standby mode.
When the memory card is full, the scanner is unable to scan more images and "Full" flashes on the screen for 2 seconds.