Go to File Menu 
Select User Settings  
User Interface
Light or dark theme
By default, the light theme is on. 
Click on the slide button to switch to the dark theme. 
Modern or Ribbon presentation
By default, the Modern presentation is on. The groups of commands are displayed in an icon bar. Tooltips help you to understand the icons.  This documentation is mainly based on the Modern presentation.
However,  the same groups of commands can be displayed in a classic Ribbon (with tabs): click on the slide button to switch to Ribbon mode. You can also press F12 to toggle between the two modes.  
| | |
| --- | --- |
|  Modern mode |   |
|  Ribbon mode | |
Change the interface language
Select your interface language within the 'Languages' drop down list.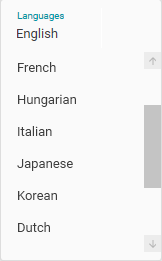 Legal Notice
By default, the Usage Intelligence is on. 
Click on the slide button to switch it off. 
OCR Settings
Favor text over layout
The default OCR settings favor the layout over the text. This means the result after recognition will be as close as possible to 'what you see is what you get'. 
However, you can choose to favor text over layout (click on the slide button to switch mode).  By doing so, Readiris PDF will give the focus on the text and therefore might give a different result of what you see.  
Automatic Language Detection (ALD)
Note: By default, the Automatic Language Detection is switched on and excludes manual settings. 

Readiris PDF can detect the main OCR language automatically.  The aim of this feature is to automatically detect the most probable language on a page.
The Object Panel shows the detected language at page level. Cf. The page Properties in the Properties panel.  There you can modify the OCR language easily and even add two additional OCR languages (e.g. for documents mixing languages).  You can apply those settings to all pages at once by clicking Apply to all pages.
ALD supported languages 
English, German, French, Spanish, Italian, Swedish, Danish, Norwegian, Dutch, Portuguese, Galician, Icelandic, Czech, Hungarian, Polish, Romanian, Slovak, Croatian, Slovenian, Finnish, Turkish, Estonian, Lithuanian, Latvian, Albanian, Catalan, Irish Gaelic, Scottish Gaelic, Basque, Indonesian, Malay, Swahili, Tagalog, Haitian Creole, Kurdish, Cebuano, Ganda, Kinyarwanda, Malagasy, Maltese, Nyanja, Sotho, Sundanese, Welsh, Javanese, Azeri (Latin), Uzbek, Bosnian (Latin), Afrikaans.
Serbian, Russian, Belarusian, Ukrainian, Macedonian, Bulgarian, Kazakh.
Greek. 
Hebrew.
Arabic, Farsi.
Traditional Chinese, Simplified Chinese, Japanese, Korean. 
Note: Similar variations of a main language are assimilated. E.g. Spanish assimilates all variations of Spanish, Portuguese assimilates Brazilian or French assimilates all variations of French.
Manual setting
Switch off the Automatic language detection (ALD) by clicking on the slide button next to it. 
Select manually an OCR language from the OCR Languages drop down list.